Statistical and Visual Snapshots
We were on Spring Break for the first week of National School Library Month, but we made up for it in activities during the last three. The American Library Association (ALA) and its school library division, The American Association of School Librarians (AASL) asked school librarians to complete and share a "snapshot week" of statistics for our libraries. Here is Mira Costa's snapshot, from April 25 to 29: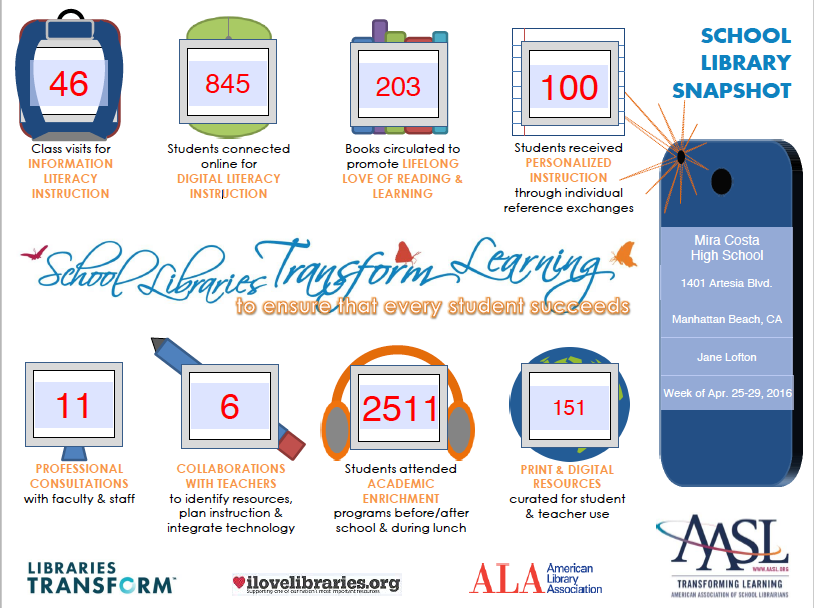 Some of these figures are pretty amazing, I think. For example, we estimated 2,511 student library visits not counting those there for scheduled class visits. These were all students who chose to visit to study, visit with friends, use the computers, do research, participate in our Geeks or Library Club, use our green screen or 3D printer, enjoy our craft table, play chess, and more before school, during Snack, lunch, office hours, lunch, or after school. And, we had 46 different class visits, with students working on and getting help from me and their classroom teachers with research or selecting books. The figure I really wish were higher is our book circulation. Students make lots of use of our electronic resources; I'd love to see more checking out books for pleasure reading. So many of them tell me they are too busy with homework and other activities to read anything beyond what is required for class. I wish they could find more time for reading!
Numbers are one thing. Here's another snapshot view of the library, with some of the photos of busy students I took during the month of April:
Library Activities
As you can see, students are busy participating in lessons, learning and using research skills, studying, using our green screen, playing chess, designing and printing with our 3D printer, "speed dating" with books, enjoying crafts, and, often, just "hanging out."
Some of the class research projects I assisted students with included:
Ms. Meyer's French students investigated different neighborhoods in Paris in order to write a business proposal for a cafe in their area of choice. To help them with this project, I showed them how to create customized maps using My Maps in Google Maps, how to use Diigo.com for storing bookmarks of sites, and how to find Creative Commons and Public Domain images for their project.
Mr. Zeoli's Freshmen English classes learned about topics related to the Shakespearean era that will enrich their upcoming study of Romeo and Juliet.
Ms. Hutchinson and Ms. Gabbert's freshman English classes explored topics affecting teenagers to enhance their reading of J.D. Salinger's Catcher  in the Rye
Ms. Camaano's Sophomore English classes investigated topics to help them better understand George Orwell's 1984.
Ms. Sieker's 1980's Literature Senior Seminar students each investigated a topic relevant to the era of the 1980's.
In addition, Ms. Clarke's Freshman and Sophomore English students all visited to "speed date" young adult literature and select independent reading books. It was exciting seeing so many students leave with a book they found on one of the different genre tables.
Ms. Chen, Mr. Brown, and Ms. Nielsen's classes also visited and took advantage of our library computers for class assignments.
Library Art: Accordion Books
We have been delighted to display "Themed Accordion Books" made by Ms. Park's Art 1 students. These photos definitely don't do them justice; please come by and see them.
Your Librarians Activities Outside the Library
Outside of the library, I was delighted to participate as one of the co-anchors of TL (Teacher Librarian) News Night on April 18. The topic this month "Providing Books for Diverse Populations." Our amazing guests included  Paula Chase, Author of The Del Rio Bay series and co-founder of The Brown Bookshelf; L. Divine, Writer and Author of @DramaHigh; Rafranz Davis, Executive Director of Professional & Digital Learning for Lufkin ISD; and Librarian Kathy Burnette, a member of the 2014 ALSC Website Advisory Committee and the 2014 YALSA Excellence in Nonfiction Committee. The discussion of the importance of supporting books that depict diverse characters, both to allow students to see themselves in books and to help them understand and empathize with people who are different from them, is one everyone will benefit from and enjoy watching. Here is the recording:
Please watch!
In addition, I served as co-moderator of a live Twitter chat for the #TLChat group on April 11 on the topic of Rethinking library spaces & learning space design. Here is a link to the chat archive.
I also had the pleasure on April 27 of co-leading, with Shannon Miller, a webinar for AASL on Storyboard That, a wonderful digital storytelling tool that can be used for storyboarding scripts, telling a story, and as a graphic organizer in so many ways. The recording of our webinar is for members AASL members only, but do visit the Storyboard That site and ask me for more information. Here is a storyboard I made, and also demonstrated how to create, during the webinar: