Research & Other Library Lessons
While the library is busy with all sorts of activities – reading, studying, using the computers for writing essays, accessing information, and more – research is always a dominant theme. Now that the Freshman Orientations are behind us, the library is booked for lots of research projects. During the last two weeks, I prepared resources and taught short lessons on research skills and sources with Ms. Vaughan's 9th grade English class, Ms. Sieker's and Ms. Cook's 12th grade English classes, Mr. Timberlake's Model UN students, and Mr. Davidson's Biology students. I also taught several of these classes about plagiarism avoidance and respect for copyright. Here is some of the material I have shared when doing lessons on plagiarism and respect for copyright:
Over the last year or so, Google has been making it much easier to give credit to sources used in Google Presentations/Slides and Google Docs. For several classes working on online presentations, I shared how students can find images using the Research Tool in Google Slides and why it is important to give credit. Here is a screencast I prepared a while back that includes information I shared live with students:
For a number of the classes visiting these last two weeks, I also helped students use EasyBib.com, a great online tool for storing research sources, creating citations, taking notes, and evaluating sources. Mira Costa has a premium account for EasyBib, which gives us ad-free access, and adds the note taking and website evaluation tools. See this page on the library website for help with EasyBib.
Library Club All Our Yesterdays Discussion
The Mira Costa Library Club served as host for our monthly "Somewhat Virtual Book Club" Google+ hangout discussion of All Our Yesterdays on October 8. Author Cristin Terrill spent the entire hour with us, and was extremely generous in replying to all the students and librarians' questions about the book, her writing craft, and her plans for future books. We also had four other schools attending. I was very proud of our students who served as the moderators of the discussion. Here's the Google+ Hangout recording of the session:
We are looking forward to our next session with We Were Liars by E. Lockhart on November 5. Our Library Club also meets during lunch each Tuesday, and welcomes any new members.
I was also invited to participate in "Google Rocks! Hawaii," a weekly Google+ Hangout for Hawaii educators led by Linda Lindsay, Teacher Librarian at Seabury Academy on the island of Maui, on October 14. The theme of the show that week was book clubs, and I shared about our "Somewhat Virtual Book Club." Here's a link to the recording.
The Geeks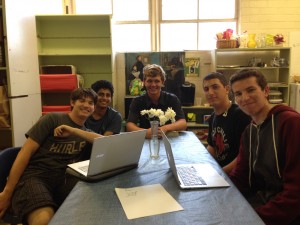 Our Geeks (formerly called the Geek Squad, now the Geeks) are ready to provide help to both students and staff with tech issues of any kind. Please take advantage of their services! You can get help during lunch Monday, Tuesday, or Thursday, after school Monday through Thursday, or by appointment. Contact me or fill out this form to request an appointment. The Geeks also hold club meetings on Thursdays, and welcome any new members.
Blogging
Señora Rossell's class visited the library again to work on their blogging project. See my last posting to learn about this activity.
Planning Work
As your librarian, I also do a lot of planning with teachers to get ready for class visits and other projects. During the last two weeks, I prepared resources for Ms. Yoon's Biology classes, and met with Ms. Clarke, Ms. Rossell, Ms. Chen, and Mr. Marx to learn about their classes needs for upcoming visits. I am also a member of a group of teachers led by William Brown planning an interdisciplinary project we will launch in the Spring on the theme of water and the current water drought in California. In addition, Mira Costa is forming a new Curriculum Committee. We had our first meeting last week, and I volunteered to serve as Chair of this group.