I had the privilege this Tuesday of spending a super afternoon at Horace Mann School in Beverly Hills, California, participating in a visit by Caroline Kennedy to the school library. The library visit was hosted by Sheryl Weiss, a super teacher librarian, former colleague in Las Virgenes USD, and friend. Caroline Kennedy's visit was part of her tour as Honorary Chair of National Library Week. She joined a fourth grade class visiting the library, and she, Sheryl, and the students talked about favorite books, reading, poetry, and what the library offers.
Ms. Kennedy, who has authored a number of books and just published her fourth poetry collection, Poems to Learn by Heart, related memories of sharing and memorizing poems when she was young. She encouraged the students to read and memorize poems as something that would stay with them throughout their lives. She talked about how poetry goes straight to the heart, and how poems remind her of her family and friends and how they shared poetry together. Now, when she hears a poem, it reminds her of the friends or family and the poem. I certainly related to her message; I have many fond memories of reading poems with my family as a child, and I can still recite them and enjoy remembering when I first learned them.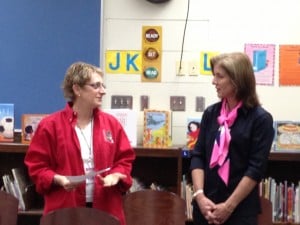 Caroline Kennedy and Sheryl Weiss also talked to the class about favorite books, why they like to read, what they can do to encourage other people to read, and why the library is a different from the classroom. One student shared how in the library she reads whatever she likes, while in the class they have to stick to specific class subjects. Caroline Kennedy agreed that the library is a place where you can follow whatever you are interested in, reading for fun.
April is National Poetry Month. Please share a favorite poem with your family and friends. Here is a recording of me reciting "The Swing," one of my favorite poems by Robert Lewis Stevenson, from his collection, A Child's Garden of Verse.